I will not only show you how a Eureka EasyClean Vacuum Cleaner does not suck (disappoint) but also how great it is at sucking off the dust from any surface. Presence of dust can be annoying especially when you are trying to get rid of it.
If you recklessly wipe out dust without using the necessary and appropriate equipment, you might end up not tidying your household and cause even more damage than the dust was causing. You can also subsequently get sick.
One of the best ways of removing dust that has been proven to be effective is the use of vacuum cleaners. Finding the right vacuum cleaner can be stressful and expensive, but fortunately, I have highlighted Eureka EasyClean Handheld Vacuum Cleaner in this review as the best fit.
In this Eureka EasyClean Handheld Vacuum Cleaner review am going to let you know the features and how advantageous they are to a good quality cleaning process. Furthermore, I will not live out the demerits it holds as compared to other vacuum cleaning products to give you a better understanding if it is worth your time and money to purchase it.
Product Description
It has a Risor Visor nozzle cover which facilitates vacuum cleaning to be done at both horizontally and diagonally.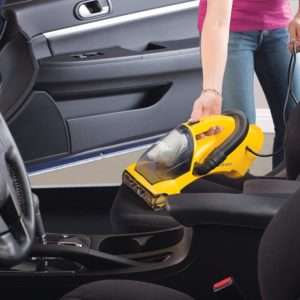 Weighs less (approximately around 5 pounds) thus it is portable and can be held by hand. This lightweight feature makes it a good car vacuum, a set of stairs at home and other inaccessible areas that need to be vacuum cleaned.
It has a 20 foot cord that allows you to vacuum places even further away from the power plugin point. Although this vacuum cleaner doesn't have a rewind feature for the cable, its back area has cord wrap section that allows you to store the wire neatly.
It also comprises of two motors; one for the brush and the other for the suction process. This feature is ideal because it lets the vacuum cleaner execute a thorough cleaning. It can unbelievably get rid of pet hair stuck in the textile of the carpet.
Its dust container can be easily cleaned and also has a filter incorporated within.It has its controls just at the fingertips on the place of holding the vacuum cleaner, so it is effortless to control and use.
Cons
Eureka EasyClean Vacuum Cleaner does not have an automatic rewind system for the cord.
Due to its small size, its dust can may fill up quickly thus make many trips of emptying it before you finish your cleaning.
Lastly, the Riser Visor nozzle is not flexible enough.
The Verdict
Eureka EasyClean Vacuum Cleaner is an excellent economical bargain that comes with a wide range of features which allow you to surpass all the cleaning hindrance in your home, office, or even in tight corners of your car. However, it is not ideal for large surfaces or places with a high amount of dust to avoid cleaning its dust bag and the filters very frequently.