What does the inside of your car look like? There's a lot to be said about your personality depending on how clean or messy it may be.
Fast food crumbs and candy wrappers in your floorboards don't leave a good impression. Although no one expects a spotless interior, pleasant car rides don't involve mystery messes. The worst part about keeping the interior clean is all of the tight corners and cracks. Between work, school, and family, it's just the kind of job for which there's no spare time.
However, there is a simple cure for your station wagon woes. Keeping a clean interior becomes a healthy habit when you own the best car vacuum.
So, how can you tell when you've found the perfect one?
We Found the Best Car Vacuum Cleaner
After searching through tons of car vacuums, we threw out the junk to bring out the best. Which one of these will be taming the pet hair and moldy fries in your car?
The Best Car Vacuum is Lightweight
What's the point of having a handheld vacuum if it hurts your wrists to use it? The name of the game here is convenient efficiency. Although a vacuum might be heavier due to additional features, the heftiness negates its entire purpose.
When you find the best car vacuum cleaner, it will weigh no more than 5lb. However, you don't have to worry about the arduous search. We've already taken care of it for you!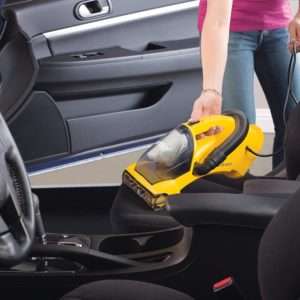 Doesn't it make sense to focus two motors on two different jobs rather than overload one motor? Eureka thought so too!
This yellow, bagless car vacuum uses one motor for brush and the other for suction. As a result, you're getting heavy-duty suction with a hard working brush. It's perfect for the multi-passenger cars that suffer excess pebbles, mud, and crumbs.
Maintenance is a breeze with the transparent, easy-to-clean dust cup. All you have to do is dump and go! Then when you're done clearing your high-traffic vehicle of litter, it's perfect around the house on upholstery too. What can make such a compact machine so fantastic?
Innovative Riser Visor
Forget twisting and turning your arm in awkward positions when you hit a corner or wall. On the front of this car vacuum, a plastic riser folds up to allow another degree of suction.
This makes it possible to clean stairs and surfaces like tables and countertops. Any tight, 90-degree corner you want free of debris won't stand a chance. If there's some otherworldly reason it can't get the job done, the stretch hose is there to back you up.
Cords with Benefits
A cord should be a negative aspect of a car vacuum, right? Not in this case.
Not only does a cord prevent the hassle of mid-suck shutoffs, it also gives you plenty of room to stretch. At 20 feet, this is by far one of the longest ones of most car vacuums. To put it in perspective, it easily reaches the length of your car and then a whole lot more. Even if you want to use it inside, it will stretch across every room in your house.
What's the Catch?
Although there are some complaints about overheating, these are likely due to neglect. While you should dump the dust bin when it gets full, blow out the filter about every 3 – 5 cleanings. It doesn't matter if it's the best car vacuum in the world, it won't last if you don't take care of it.
Otherwise, the only legitimate complaint is that it runs a little heavy at 6 pounds. For the amount of power this machine carries, it'd be crazy to expect it to be feather-light.
Stretch hose
Multi-surface use
Best Features
Riser Visor provides 90-degree suction
Two separate motors
20 foot cord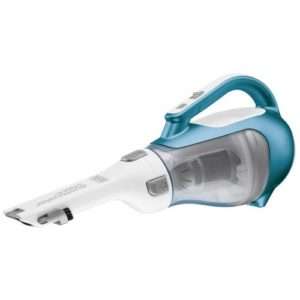 When a car vacuum comes with extra accessories, you're getting a great deal. However, that deal quickly turns sour when your loose pieces get lost around the house.
Black & Decker offers an ingenious solution with their built-in accessories. Using the crevice tool or brush attachment is as simple as rotating and sliding. Pop them out when you're ready for them and tuck them back in when you're done!
You'll always know that you have everything you need when you pick it up. However, that's not the only feature that makes this feather-light, 3lb, blue dust sucker a true winner.
Cyclonic Action
Despite what kind of vacuum you own, you should clean the filter ever few uses. However, cyclonic action within this vacuum keeps dust and debris away from filter. Although you should still clean the filter, you'll be doing it way less and appreciate a longer vacuum lifespan.
Smart Charge Technology
Would you believe you can have maximum suction for minimal power usage? The lithium ion battery sustains a durable life while using 50% less energy. Additionally, the charging base shuts off once the battery is full to conserve even more.
However, the blue LED light that signals your battery power is also a minor downfall here.
What's the Catch?
There's a blue LED light that flashes while the vacuum charges and stays on throughout use. While this is somewhat helpful, it's really unnecessary. Many owners slap a piece of tape over it. Of all the things that could go wrong with the best car vacuum, this one is really nothing.
Extremely lightweight (3lbs)
Washable filter
Charging base cannot mount on wall
Annoying Light
Best Features
Uses 50% less energy
Built-in accessories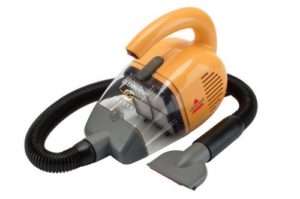 When it comes to home appliances, especially vacuums, Bissell is a name we all know and trust. They continuously raise the bar, this time by making an amazingly quiet vacuum. At the loudest volume, this orange beast is barely louder than a normal conversation at 83-dB.
What else do you get for such an affordable price?
Pet Friendly
Do you have some furry friends around the house? This bagless dust destroyer uses a HEPA filter for allergy prone users. Although it isn't specific to pet hair use, it is up to par with its pet hair counterpart. The only differences between them is that this one has extra accessories and the power cord is 2 feet longer. Since it has yet to prove us wrong, there's no reason this Bissell won't pick up stubborn pet hairs.
Gives you all you need
The extra accessories are truly what makes this a versatile vacuum. One attachment uses a rubber lining to pick up hair and stubborn debris while the other one has a velvety lining. When you have sensitive surfaces you want to protect, the velvet cushions it from cuts and tears.
These heads can snap straight into the vacuum or on the tool-end of the removable stretch hose.
What's the Catch?
Each vacuum is made different and this one just happens to have exhaust vents on side. While it can disturb your cleaning in the beginning, many users adapt quickly. It's simply a matter of strategic maneuvering.
Otherwise, the only downside here is that it won't work on hard surfaces as well as carpet or upholstery.
Extra accessories
Long power cord (18ft)
Slightly heavy (5lbs)
Exhaust vents on side
Not very adept on hard surfaces
Best Features
HEPA filter
Quieter than other vacuums (about 83dB)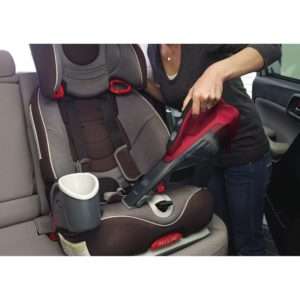 Black & Decker amazes us again with this feather-light, traditional-style vacuum. However, don't take its easy handling to equal a lack of power. In fact, the sleek, ergonomic handle and overall 3-lb weight will make any job you take an effortless venture.
No Mess Dust Bin
Unlike our other car vacuums, the dust bin in this one simply slides open. Of course, the best car vacuum won't leave you with a cloud of dust after use. Even better, it's just as easy to clean as the filter. Yes, you heard us right – you can wash the filter. Maintenance has never made so much sense.
Wall Mount Charging Station
Did you ever wonder when that outlet in the closet would come in handy? Now is the time. Rather than a space-stealing floor station, this charging base goes right into the wall. After a quick 6 hours charging time, the LED light lets you know when the battery is full.
As great as this station is, it doesn't come without its drawbacks.
What's the Catch?
Although the charging station can be conveniently placed on the wall, the vacuum is not so sturdy. A slight bump will tip it over, so keep it out of high-traffic areas of your home. Otherwise, the only other complaint is that this vacuum is not very useful with pet hair.
Ergonomic handle
Extendable crevice tool
Washable filter
Flimsy charging station
Strong exhaust
Not adept with pet hair
Best Features
Flip-up brush adapter
Lithium battery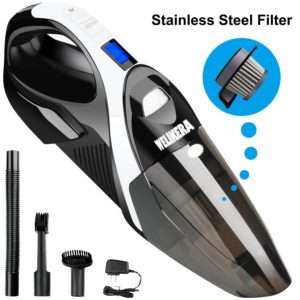 We absolutely love this vacuum. Not only is it perfect for all types of messes, it's a pro at the worst kinds of debris. Do you have a pet that loves car rides? No problem. Are you a smoker that's tired of the embedded ashes in the rug? This is the best car vacuum for you.
The LED light that helps you see in dark areas (like under the seats) will be an invaluable aid to its powerful suction. However, this isn't the only great feature.
The trickiest part about cleaning your car are all up front – the radio and dashboard. That's where all of the uneven surfaces, buttons, screens, and knobs sit. Cleaning them manually with a rag is painfully tedious.
Despite its powerful suction, using the brush accessory allows you to bypass the rag and get it clean quick. While you gently brush and suck the dirt from the surface, it also gets those tight crevices around the edges.
Even your AC vents will get a long-awaited cleaning. Sure, you can buy several cans of condensed air, but they only break dirt loose then fail to clean it.
Stainless Steel Filter
Do you know that feeling when you see something and think "why hasn't this been done before"? That's exactly how we feel about WELIKERA's stainless steel filter. Thanks to its design, washing it easy and it will last 20 times as long as a HEPA filter.
Also, you can clean up liquid spills because of the stainless steel. In most vacuums, liquid would ruin a normal filter, costing you more money and a headache. You won't have that problem ever again with this innovative filter!
What's the Catch?
We all love a compact, sleek charging station that makes our vacuum look like an abstract sculpture in the garage. Unfortunately, you won't get that here, but a cord that plugs into the wall instead. This makes it difficult finding a place to charge. However, the handle is large enough to be hung on a hook.
5 hour charging time
Can clean liquid spills
Works with sensitive surfaces
No charging station (uses a plug in)
Best Features
Stainless Steel Filter
Extra accessories (including carrying case)
LED built-in light for hard-to-see areas
Try it for yourself!
Don't just take our word for it. Try out one of our top picks today for the best car vacuum you'll ever own!