Last Updated on by Vacuum Savvy
Industrial vacuum cleaners use to be solely accessible by big commercial giants. They were pricey, they were powerful and they weren´t for small business. The internet really changed the game when it came to industrial Vacuum cleaners. For the first time, makers could go straight to market rather than through third parties or bulk selling. In todays market, action vacuums can be picked up for a pittance whilst offering some serious performance capability. One vacuum that´s caught my eye is the Vacmaster 8 gallon industrial cleaner. I used to own one of these a few years ago, and it could suck the tiles off my floor. Here´s what I thought of the latest version.
At first glance the Vacmaster 8 looks like a heavy duty piece of equipment. The thick plastic cylinder attached to a separate wheel tray which screams high power suction. Firing up the two stage motor, the first thing to note is that it´s surprisingly quiet. Especially given the suction power it has. The tank is made from robust polypropelene plastic, there´s a 10 ft. crush proof industrial hose and a 30 Ft. Power cord.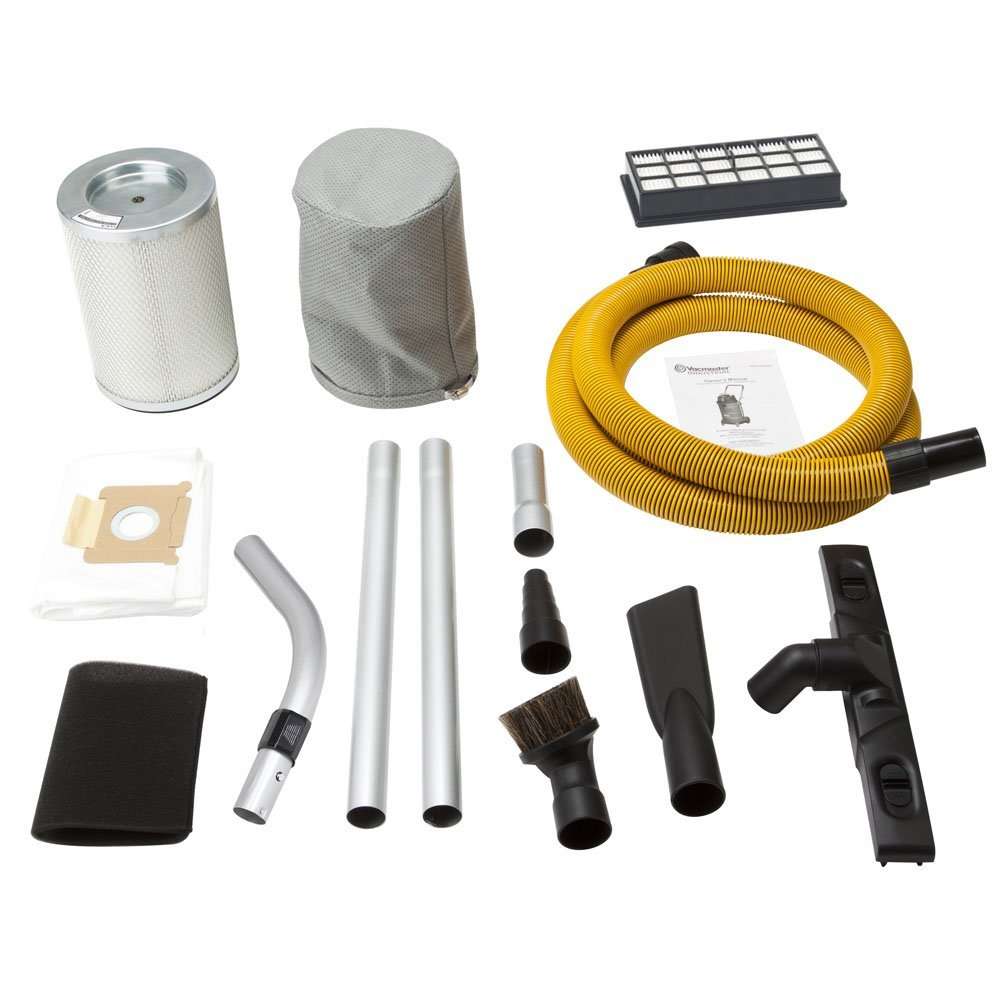 Out of the box you get a range of attachments, alongside various efficiency certificates from the HEPA. There's A 4 stage filter that runs all materials into the bag without damaging the overall unit. The handiest of the extras is the foam filter sleeve for dealing with liquids spills which comes free of charge.
If you´re a small business owner this Vacuum will get the job done. It´s satisfyingly robust with heavy-duty build quality all over.There´s a one year warranty to protect the parts, and it´s available at a very reasonable price. One of the problems I can see with this vacuum is it's weight.
It weighs around 20llbs. That may not sound like a lot but, if you´re pulling to and fro on carpets that weight will be a bit of a problem. The other issue I have is how quickly the bag fills up. It´s also difficult to find 8 gallon bags in stores which makes replacing hoover bags a bit of an issue. When you do invest, make sure to buy a few extra bags direct from the company.
The bags filling up quickly is perhaps a testament to suction power on this vacuum. I can´t see this having any trouble pulling up pieces of plaster board, dust, wood chips or anything else it might need. As a personal hoover it can come in handy with its long power cord, and increased cleaning power; although, it is a bit clunky and difficult to move around.
Overall I´m very impressed with this product. It´s energy efficient, with an excellent suction power and a robust construction. The price is a lot lower than most industrial vacuums which means you may have a little trouble further down the line. For now though, this machine comes with a year long warranty to take the risk out of the purchase. The customer service team is excellent and highly responsive which is one of the benefits of choosing a US based company. A top performer, available at a surprisingly low price.